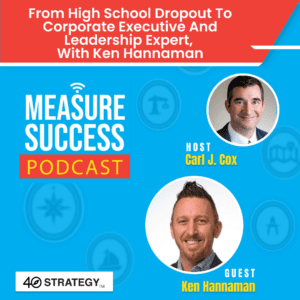 Our latest guest, Ken Hannaman, certainly hasn't gone down the "traditional" route in life. Even though he was a decent student as a teenager, he dropped out of high school. But it's what he's done in the years since — moving all the way up to corporate leadership positions at some of the most recognizable names in restaurants — that makes his journey unique. 
Ken is the Founder and Possibility Mindset Coach at Ungraduated Living, as well as a corporate executive leader of 400+ restaurants. 
Subscribe
Sign up and stay current with 40 Strategy
By submitting your information, you are granting us permission to email you. You may unsubscribe at any time.