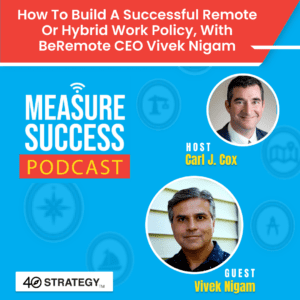 There's no post-2020 workplace frustration quite like the words "remote work." Whether you're an employee being forced back into the office, a boss that can't get their team to maintain productivity from home, someone commuting 50 miles three times a week, or you're someone in between — you probably have some remote work frustrations. That's why this week we're chatting with someone who helps companies deal with exactly those types of questions. 
Vivek Nigam is the Founder and CEO of BeRemote LLC, which is focused on employee wellness, team engagement, trust and cohesion, and building a positive company culture in the hybrid workplace. Vivek has had a 30+ year career in technology and strategy roles dating back to his early days as a software engineer, leading to him founding a startup in the Washington DC area where he was the CTO and ultimately sold that company to AOL in 2000 for a positive exit. 
Tune into the full conversation for more on some of the mistakes companies make when designing their remote or hybrid work policies, how to improve team engagement at your organization, strategies for increasing team cohesiveness (even in a remote environment), and more. 
Here's a Glimpse of What You'll Learn: 
More about Vivek's childhood, his father, and how that background inspired him to create his current company

Some of the problems associated with the "return to office" that's been happening over the last couple years after the boom of remote work post-COVID

How to strike the balance between the benefits of remote work, like lack of a commute, and the benefits of working in the office, like cooperation and quality time with your team

The importance of "friendships at work" — and how to build them within your organization

How to build the habit of team participation within a business

The retention risk/reward of enacting remote work vs return-to-office policies 

How Vivek measures success at his company, both in terms of qualitative and quantitative measurements

The power of focus boosters, mindfulness minutes, and other daily habits that help improve both productivity and restfulness 

Some of Vivek's top book recommendations, and how their principles can help today's business leaders
Resources Mentioned in This Episode: 
Share This Podcast, Choose Your Platform!