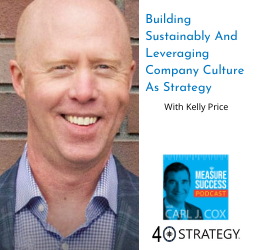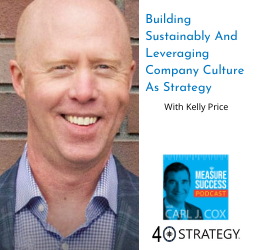 Kelly Price is the President and Co-founder of MainStreet Property Group LLC, a real estate development firm dedicated to the vision, construction, and operation of landmark mixed-use properties in the Greater Seattle area. He is also the President of GenCap Construction Corp. and the Managing Partner of Insite Property Solutions, a boutique, full-service property management company.
Over the last 20 years, Kelly has completed billions of dollars in financial and real estate transactions and has dedicated himself to the goal of building sustainable communities. He has also served as a speaker and panelist on real estate and finance. Previously, he was the CFO for CamWest Development, and he spent six years as the CFO for Emeritus. Kelly holds a bachelor of arts in accounting from the University of Washington.
Here's a glimpse of what you'll learn:
Kelly Price offers a brief overview of his three companies, their purpose, and the geographical landscape where they operate
Kelly discusses the importance of building to the highest level of sustainability and how he's done so while remaining financially competitive
What are the differences in the various levels of sustainability, and what could a carbon-neutral community look like?
Why the best strategies require a strong company culture
Kelly talks about his company's vision and objectives and shares the number one metric he reviews
How does Kelly maintain balance while creating accountability in his life?
Book recommendations from Kelly and Carl J. Cox
In this episode…
Cost is frequently one of the largest objections to building sustainably. However, Kelly Price of MainStreet Property Group LLC, GenCap Construction Corp., and Insite Property Solutions has managed to find a way to build to the highest level of sustainability while maintaining a competitive cost structure. As a result, Kelly's companies are now setting an example for pushing the envelope when it comes to building in an environmentally friendly manner.
According to Kelly, the main reason for his success isn't the strategies of his companies — it's the people and the culture. In fact, his top two objectives involve finding and retaining the right people and creating a culture of extreme engagement. Kelly believes that even the greatest strategies will suffer if you don't have the right people in the right places.
In this episode of the Measure Success Podcast, Carl J. Cox talks with Kelly Price, President of MainStreet Property Group LLC and GenCap Construction Corp., and Managing Partner of Insite Property Solutions. Together, they discuss the value of building sustainably, why company culture should be a part of any organization's strategy, and how to maintain a work-life balance without losing your edge. Stay tuned!
Resources Mentioned in this episode
Sponsor for this episode…
This episode is sponsored by 40 Strategy.
40 Strategy provides strategic planning and consulting to help organizations realize and achieve their dreams by creating and measuring KPIs for success.
Unfortunately, most organizations only spend 2% of their time—or about 40 hours per year—on building an effective strategy.
Increasing the success of those 40 hours is what 40 Strategy does because your success is their passion—and that's why organizations look to them for guidance.
Not only does 40 Strategy help you craft and implement an effective strategy, but they'll also work to facilitate teams with proven practices and help with your scenario planning.
Harvard research shows that you can triple your success when you use the right Key Performance Indicators. Who doesn't want that?
If you have questions, you can reach out through their website or email them at catch@40strategy.com.
Episode Transcript
Intro 0:03
Welcome to the Measure Success Podcast where we feature top leaders on how they measure success in their business and life. Now, let's learn from their experiences.
Carl J. Cox 0:18
Carl J. Cox here, and I'm the host of the Measure Success Podcast, where I talk with top leaders about effective strategies that inspire success. This episode is brought to you by 40 Strategy and 40 Strategy. We provide strategic planning, and consulting to help organizations realize and achieve their dreams. Kelly, basically what we do is we help companies create strategic plans and measure the right KPIs for success. what's crazy is that only Yeah, very important. Exactly what we're talking about is ahead of time, it was nuts is on this is your rough estimations that about only about 2% of executives time is actually spent on strategy with their ordinary company. And so that gets to about 40 collective hours per year, which I don't know about you. But I think it's pretty crazy that that little amount of time is spent. And so at 40 Strategy, your success is our passion. That's why organizations call on us to help you would come up with strategy, but we have proven practices to make that work. Harvard Business Review shows if you actually focus on the right key performance indicators, you can triple your success. And who wouldn't want that. So feel free to contact us at catch like catching up on catch@40strategy.com or simply go to our website at 40strategy.com. And so now we like to do our our shout out and our shout out is actually to our both of our good friends that we have is Jon Foster. Jon Foster is the President at Marastar and who they Marastar provides flat free tires, the retail and construction industry. Jon and I have known each other a long time and we have mutual ones good mutual friends here. Jon introduced and I don't know if you know this Kelly, but I actually challenged Jon to run a marathon. And so him and I are concurrently training for that it's been a pain and a challenge but we're getting there. I'm also going to do another shout out as this is going to be released. It's gonna be right around my wife's birthday, Sarah and also it will be our 25th anniversary. So Happy anniversary. Happy birthday, Sarah to my high school sweetheart. And now we're going to around an introduction to Kelly. Kelly is the president of MainStreet Property Group based in Kirkland Washington. MainStreet is a real estate development firm dedicated to the vision construction and operation of landmark mixed use properties in the greater Seattle area. Kelly is also the managing partner of Insite Property Solutions, which is a boutique all service property management company specializing in the management of apartment communities homeowner and condominium associations, is also the CEO of GenCap Construction Corp., which is a general contracting and construction management firm specializing in multifamily retail and tenant improvements. last 20 1520 years, you have actually completed billions of dollars in financial real estate transactions. You're served as a speaker and panelists on a variety of real estate and finance topics. Prior to this, you have been the CEO for two companies one CamWest Development Inc., and Emeritus. You have a Bachelor of Arts which we both do from in accounting from the University of Washington. Go dogs go dog. Go dogs. All right. So Kelly, thank you so much for being on the Measure Success Podcast.
Kelly Price 3:28
Yeah. Well, thanks for having me appreciate a call.
Carl J. Cox 3:31
So for the audience who might not know about you, why don't you share a little bit about your companies and what they do? And how can you understand more about that? Sure.
Kelly Price 3:42
Yeah, MainStreet Property Group is a development commercial development company. We're focused on the east side of the greater Seattle area. So basically, if you are offices in Kirkland, if you formed a 10 mile half circle, staying east of Lake Washington, around our office, that's basically our market area. And that's been the case for the last 20 some odd years. My partner and I have only focused in that geographical area, and there's been a ton of changes and a lot of opportunity there. So we haven't had to venture out. And, you know, we, we like to, to build and develop in areas where our friends and family and ourselves all live. Our purpose as a company is turning spaces into places. And there's a lot that goes into that, but that's what we focus on every day. We're a little unique in that we are as far as you pointed out, vertically integrated. So we take our projects from the time they're basically unentitled raw land. Develop, working with architects and cities and all sorts of consultants develop the vision, and the plan and the design for what we're going to build and what makes sense to build there. then ultimately, we construct it with GenCap Construction Corp., and then we manage it as well. So we really have the end to end experience of developing, building and then operating for the long term. Everything that we're involved in, it really gives us the ability to get close to our customers. Because we have about a third of our company every day working shoulder to shoulder with our either our residential customers, or our commercial customers, tenants. So we get amazing feedback all the time on what's working well, what's not working so well. And then we can fold that right back into the development and design process, and the construction process. So there's a lot of transparency in our organization. We do operate as one common organizational culture, but three distinct companies with their own management teams and systems and processes and visions and goals. So although we have a lot of unification amongst our group, we do have separate businesses, and they each have things that are important to them, which can be challenging, but like I said, it creates a lot of transparency. So you know, in our market, we're one of if not the largest developer development company, at any one time, to give you an idea, we have, oh, anywhere from two to five projects under construction. And those projects can range in size from $20 million to $125 million. So pretty broad, pretty broad range, it really just depends on what the opportunity is, you know, relative to the size, we don't go searching for, you know, some magic size of a project, it just depends on the property and the lay of the land. One of the important things for us is, is we're never going to have as much money or as many people as our competitors. So we have to move quicker, try to be more innovative, and be more attentive to what the community really needs at each project that we get involved in. So it gets right back to our purpose, turning spaces into places, we try to make amazing places where people want, want to live, want to recreate, want to eat dinner at or whatever it is. We want to draw the community into our projects.
[continue to next page]