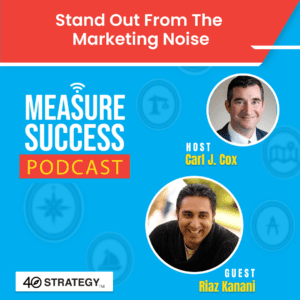 It's no secret that we live in a noisier (internet) world than ever. Customers could potentially need to see something about your organization a dozen times or more before even realizing that you exist — much less buy from you. The marketing world is saturated with endless messages, offers, and content. So how do you stand out from the crowd? 
Our latest guest is someone who guides business owners on exactly that. Riaz Kanani is a serial entrepreneur returning to the B2B world to build a go-to-market platform for the new buyer. 
Listen to the full conversation for more on the evolution of marketing over the last several years, how to make sure people actually pay attention to your emails and content pieces, what the impact of generative AI could look like in this industry, and a lot more.
Here's a Glimpse of What You'll Learn:
More about the genesis of Riaz's company, Radiate B2B, how it's evolved, and what the organization does now

How to stand out from the noise when it comes to email and content marketing

The importance of understanding who you're marketing to (not just *what* you're marketing)

Why so many of Riaz's clients end up saying, "Oh, it's *that* easy."

Why Riaz didn't take a break from entrepreneurship and working after he successfully built and sold his first company

The impact that generative AI has had on Riaz's company, the industry as a whole, and how he expects the technology to evolve in the future

Why Riaz doesn't typically do any of the self-improvement advice he sees every day on the internet — and the two concepts that he relies on instead 

The power of understanding yourself *and* your "why"

How Riaz measures success in both his professional and personal life — and why he plans his personal life up to 10 years out 

Why Riaz says that most people behave illogically — and how that relates back to several of his recommended books
Resources Mentioned in This Episode: 
Share This Podcast, Choose Your Platform!