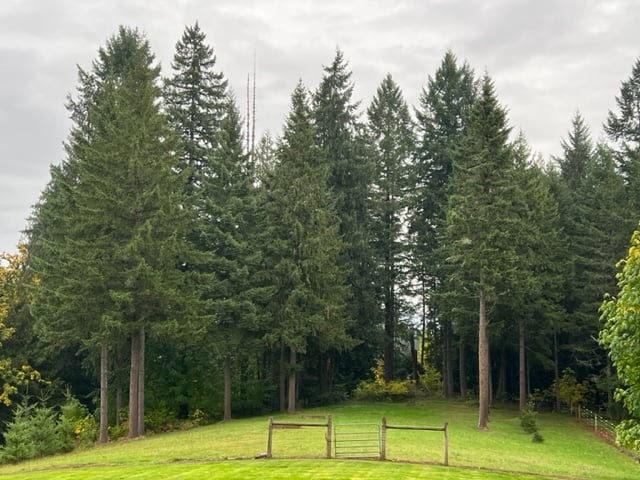 Debunking Common Wisdom
Strategy 4 Saturday (<4-minute read)
If a Tree Falls in the Forest…

Common Marketing Wisdom

LinkedIn, AI, and the Bots

Elon Musk Breaking the Rule of 7

Measure Success Podcast | 

Justin Nassiri | LinkedIn Expert

Coming up this week | 

Mathematica

COO |

 

Lisa Schwartz 
Welcome to our expanding Strategy 4 Saturday blog community! If you find value in our weekly blog, please continue to read, provide us comments and share with others. You can unsubscribe at any time. 
Pacific Northwest
If a Tree Falls in the Forest…?
As we enter November in the Pacific Northwest, you prepare yourself for shorter days, gray skies, and wet payment for the next three months. Specifically, as we like to say, it's what keeps Oregon green. 🙂 Grass, moss, and the tall Douglas Fir and Cedar trees thrive in this environment. Rain and windstorms sway the 100-foot trees back and forth. The stronger tree's root systems manage; however weaker trees fall every year. 
Which begs the famous question, if a tree falls in a forest, and there's no one around to hear it, does it make a sound?  (See answer below.)
Common Marketing Wisdom
According to IndoorMedia, the average consumer needs to view an ad at least 7–8 times before it'll really sink in. Wall Street Communications confirms that the Rule of 7 impressions is potentially true and my Google search had 238 million results in .51 seconds which support that basis. In this same article, a reference is made by Thomas Smith, you need at least 20 views before a purchase is made. The silly part is that 'research' is dated back from the book "Successful Advertising" in 1885!
So just because you receive 238 million validating results from Google, does that make it true?
I do know this, everyone creating and selling ads wants you to believe that you need at least 7 impressions, or perhaps as many as 20 before an ad works.
And if there is a Rule of 7, or the 1885 rule, is it reasonable to believe that we will need more impressions because of the ease of creating new ads with Generative AI?
LinkedIn, AI, and the Bots
In general, the place where I spend the most time on social media is LinkedIn. With 16K+ connections, it can be busy. For years, I have appreciated reading outstanding content. First, by connecting with extraordinary leaders from around the world.  Second, by developing a voice. Specifically, what I have not appreciated is the daily request of whether I want to…
Own a new business by starting a franchise?  
Develop mobile application tools with offshore development?
Create a new website?
Obtain 67 new prospect calls per week?
Find a new friend to chat with from SE Asia?
Etc., etc.
Most of these requests, I simply delete or politely decline. Sometimes, I will look at the 'new friend request' and find that the person who will provide me 67 new weekly prospect calls has only 216 contacts. Hmm. That's interesting, Mr. Bot. Therefore, I delete.
However, the past couple of months, I have seen new algorithms that have surprised me. Very impressive friend requests that appear to have an extraordinary business, an in depth personalized request, with excellent graphics. Here is a recent example. Welcome, Mr. AI Bot, at your service.
See example below…
"Ні Carl., I wanted to reach out to see if you'd be interested in early access for my latest Al solution for Agency Owners. This tech is secretly taking over the industry right now and giving an unfair advantage to its early adopters.. What is it? Al Appointment Setting Systems. Yep, say goodbye to unreliable and low quality appointment setters who charge steep fees and quit often… I've built a bulletproof Al system that funnels your website leads into conversations to qualify and convert them into high quality appointments.
Once setup, you'll never need to hire another appointment setter again. AND It'll cost you only a fraction of the cost of a human setter. How good? If supercharging you're business with Al setters sounds at all interesting to you, l'd love to have a chat and see if my system is a good fit for your business. Best, Mr. AI Bot P.S. I'm only looking to take on 3 new clients for October, I prefer to keep a laser focus on a few clients to get them massive results rather than spread myself thin!"
Overall, I would say this a very impressive reach out campaign!
BUT, Mr. AI. Bot has ONLY 53 connections, as a result, Delete!!!
Elon Musk Breaking the Rule of 7
At first glance, my gut reaction is that is may take our firm over 20 impressions to be seen in this very busy social media. The next standard reaction is to question, how do we take our impressions to the next level?
But is that the right strategy?
I recently had two separate organizations distinguish themselves. I had never heard of either one. Zero prior impressions. 
Firm A: One firm sent me a personalized video. After the personalized video, I agreed to connect. Before we met via Zoom, they sent me another video to describe their services in more detail. It was personalized. We are getting ready to try their services for 2024. If it works well, I will tell you more about the company.
Firm B: A person sent me a very, well crafted, and researched connection request. Frankly, I wanted to meet with them to find out if they were using AI to craft the message. They were not. We had a great conversation, and as a result, I plan to include him on a future podcast.
Each person provided ONLY ONE genuine impression. One genuine impression created a real connection, conversation, and plans to connect to do future business.
As a matter of fact, this is the real math. Genuine human effort can beat AI, the Rule of 7, and Rule of 20. 
Elon Musk has proven traditional marketing logic fails.
Elon Musk, who recently warned in Time, that there will be a point, when no jobs will be needed because AI will be able to do everything. Interestingly, Tesla doesn't spend ANY money on traditional advertising, such as TV/Radio, Print Newspapers, or Sponsorship. Instead, they rely on Elon's media coverage and word of mouth. Very personal, very human.
In the meantime, considering being more human, not less human. Use AI to accelerate the process, not your humanity.
As a matter of fact, that Douglas Fir tree falling in the middle of the forest makes a sound. Thank you, Matt Bobrowsky from the National Science Teaching Association, NSTA. 
Because, the real question is, will people hear your voice?
Picture below writing this blog early Saturday morning at Insomnia coffee (Oregon)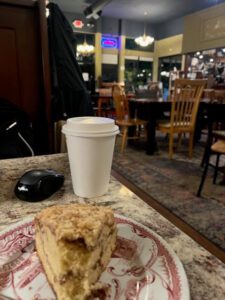 Justin Nassiri | How executives can maximize their LinkedIn presence (authentically) and cut through the noise, with Justin Nassiri
If you're an executive, your plate is full enough — so establishing a presence on LinkedIn is probably pretty far down the list. 
And no wonder. This platform: 
Constantly changes its algorithm 

Can be way too noisy

Has probably spammed you at least a handful of times 

Is hard to figure out if you don't have a clear-cut strategy.
Therefore, most executives simply don't have time to create content or establish a presence here. They're too busy… running their business. 
My latest Measure Success Podcast guest, Justin Nassiri, is someone who helps CEOs clear those hurdles — and he also has some expert advice for what actually works on this constantly changing social platform. Tune into the full episode on Tuesday, October 31st.
Justin is the CEO of Executive Presence, which provides a fully managed LinkedIn presence for CEOs and top executives. He is a U.S. Navy submarine veteran, Stanford MBA, and the founder of two previous companies. 
Lisa Schwartz

 

I How to use evidence-backed decision-making to adapt and grow as a company, with Mathematica COO Lisa Schwartz 
As an organizational leader, how often do you hear about the importance of making strategic choices based on "the data"? 
Daily?
But what if that's not the whole story? 
In fact, what if there was a way to: 
Look deeper past the numbers

Glean better insights

Use a more analytical approach 
… to drive better decisions and organizational growth?
What if this shift in thinking was the key to adaptation — which is now more important than ever?
My latest Measure Success Podcast guest is someone who can teach us how to think that way.
Mathematica Chief Operating Officer, Lisa Schwartz identifies ways to pinpoint changes in business context and determine how the organization will adapt to stay strong and competitive. She drives operational excellence by overseeing day-to-day business performance, establishing and maintaining alignment across all business leaders, and tracking, monitoring, analyzing, and interpreting key performance indicators. Find out more on Mathematica's  On the Evidence Podcast . 
As our podcast and blog are free for you, here is the link to share with someone else to sign up. 
Share This Story, Choose Your Platform!