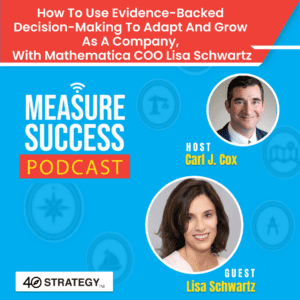 As leaders, we hear about the importance of making strategic choices based on "the data." But what if that's not the whole story? What if there was a way to look deeper past the numbers, glean better insights, and use a more analytical approach to drive better decisions and organizational growth? What if this shift in thinking was the key to adaptation — which is now more important than ever?
Our guest this week is someone who can teach us how to think that way. As a Chief Operating Officer, Lisa Schwartz pinpoint changes in Mathematica's business context and determine how the organization will adapt to stay strong and competitive. She drives operational excellence by overseeing day-to-day business performance, establishing and maintaining alignment across all business leaders, and tracking, monitoring, analyzing, and interpreting key performance indicators. 
Tune into the full episode for more on how leaders can make better evidence-based strategic decisions, new expectations of today's crop of leaders, how to design a better hybrid work experience at an organization, and more.
Here's a Glimpse of What You'll Learn: 
More about the purpose and origin story of Lisa's company, Mathematica — and why the organization is not a "profit maximizing" company

What led Lisa to leaving academia, why her story is about "stepping on and off new paths," and what she had to change about herself when she stepped into a COO role

The thing Lisa said to her CEO that "no business book" would ever advise you to do

The "palpable energy" Lisa felt at the beginning of the COVID pandemic — and why she's trying to recreate that level of human connection within her company

How the expectations of leaders have changed post-pandemic, and why Lisa believes this is the era of "compassionate leadership"

Why the hybrid work experience became the most important piece to figure out in Mathematica's strategic plan

In the time of generative AI, why Lisa believes there's more need for "humanness"

The difference between data-backed and emotional decisions, and how companies can figure out how to make the best strategic choices 

The difference between data and evidence

The daily practices that Lisa uses to be her best self, and why integrity and generosity are the metrics she uses to measure success in her personal life
Resources Mentioned in This Episode:
Share This Podcast, Choose Your Platform!