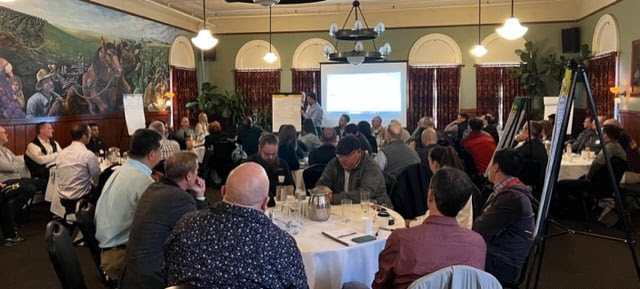 Strategy 4 Saturday (<4 minute read)
40 Strategy Planning
Clarifying Our Vision
Strategic Destinations
Webinar: Create Your Business Vision with ChatGPT (Oct 19th, 10am PT)
Measure Success Podcast | Brad Giles
Coming up this week | Award-winning Author & Strategist | Jim Britt
Welcome to our expanding Strategy 4 Saturday blog community! If you find value in our weekly blog, please continue to read, provide us comments and share with others. You can unsubscribe at anytime.
Pictured above: Hosting a strategic facilitation this past week with a client at McMenamins Edgefield in Troutdale, Oregon.
40 Strategy Planning
This past week, we started our strategic planning process for 2024. The catalyst was threefold:
#1 – Clarifying our Vision
#2 – Set One Year and Three Year Goals
#3 – Too many "entrepreneurial" opportunities created over the past year, and we need to focus in 2024.
Clarifying our Vision
The first part of the CAPTAIN strategy process is Compass. We believe it is critical to have a clear long-term vision that will direct the activities of your organization.
We are currently in Year 4 of our original 10-Year Vision. The 10-Year Vision was to positively impact 1,000,000 people, 10,000 organizations, and 100 organizations directly. We also created the goal to give $1 million to charity.
(In a future blog, we will disclose our tracking towards these goals.)
In this process, we have redefined our 10-Year Vision (end of 2030), and clarified our key goals for the next 3 years (2026) and 1 year (2024).
Our new 2030 vision statement (in draft mode):
"40 Strategy has directly helped 100 businesses grow to their potential, enabling our company to donate $1 million to charitable organizations."
This is definitely in draft mode, and I am considering adding how much of a measurable impact supporting our clients.
Strategic Destinations (goals)
The A is to Aspire. We believe in creating stretch goals which require you to change your habits to meet those goals.
10-Year Goals should have a 51% chance of success
3-Year Goals should have a 70% chance of success
1-Year Goals should have a 90% chance of success
2026:
World-class business experience for clients.
3x revenue and charitable contributions from 2023.
Generate 33% of revenue as passive income.
Optimize operating model (define), (business to operate without me for 40 days)
2024:
Define and create a world-class business experience for clients.
2x revenue and charitable contributions from 2022.
Create 15% of revenue as passive income.
Streamline operating model. (define)
Next week, we are focusing on how to narrow down on the most important strategic priorities. We have received so many opportunities from clients, partners, book, podcast, blog, LinkedIn, etc., we need to decide on the few that will have the biggest impact on the outcome. We will tackle that discussion next week.
Speaking of tackling…most of our posts are written on a Saturday morning at a café somewhere around the US. This had to be written in advance because my alma mater, the #7 University of Washington Huskies, will be hosting the #8 team from down south in a football rivalry game, featured on ESPN College Game Day. Several of us plan to make a road trip. Go Huskies!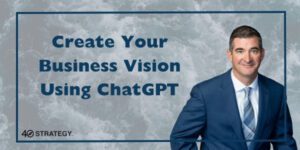 Webinar: Create Your Business Vision with ChatGPT
On October 19th, 10AM PT, we are hosting a free webinar to help you write your business vision with ChatGPT. All registered guests will receive our 40 Strategy ChatGPT prompt.
You are the FIRST to be invited!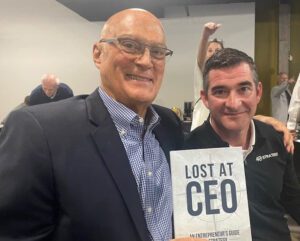 Bert Waugh is the founder of Transitional Youth. His podcast will release in the Giving Season between Thanksgiving and Christmas with several other extraordinary leaders, such as Thomas Vozzo, CEO, Homeboy Industries, author of the Homeboy Way.
My guest, on the Tuesday, October 10th Measure Success Podcast has some of the answers you need. Listen in to hear:
The one metric Brad uses to measure success within his business.
How to define a CEO's actual role — and then how to measure success within that role
Why flexibility is so important when it comes to determining your organization's KPIs (and the balance to strike between lagging and leading indicators)
What Brad's company does, plus the biggest surprises that his clients experience after beginning to work with him
Brad Giles has more than 20 years of experience as a serial entrepreneur, strategic planner, and leadership coach. Brad is the author of "Onboarded: How to bring new hires to the point where they are effective, faster" and "Made to Thrive: The Five Roles to Evolve Beyond Your Leadership Comfort Zone," a prescriptive guide on how to become a great leader. Each week, Brad co-hosts The Growth Whisperers podcast and writes a weekly newsletter, both of which discuss how to build enduring great companies. He's also the founder of the strategic planning and coaching consultancy Evolution Partners.
Jim Britt  has seen rock bottom:
A home foreclosure
Car repossession
Only a few coins in his pocket
A family to feed
… and the sinking feeling in his stomach of… "What am I going to do?"
The answer he came up with — and his inspiring story from 15 cents in his pocket to becoming a millionaire and bestseller — is one that any business owner (or *person*) can learn from.
Jim is an award-winning author of 15 #1 international best-selling books. He is an internationally recognized business and life strategist who is highly sought after as a keynote speaker and success strategist. He's one of the world's top 50 speakers and top 20 life and success coaches. Find out more about Jim on his website.
Tune into the full episode, Tuesday, 10/17, for more on Jim's personal story, the 6 core traits that every millionaire exhibits, why Jim never writes down his goals (and the important mindset shift he encourages people to make to actually find success), and a lot more.
As our podcast and blog are free for you, here is the link to share with someone else to sign up.
Share This Story, Choose Your Platform!